Activ Detox

For whom?
Localised curves, difficulty eliminating toxins, a dull complexion, etc.: excess toxins in the body can have repercussions on the figure and skin.
Description
Activ'Detox Bio, with its 100% natural-origin active ingredients – fucus brown algae and a complex of organic plants* – helps you to recover a sense of well-being and lightness:
fennel and artichoke extracts encourage detoxification of the body by helping to drain and eliminate toxins;
fucus brown algae helps promote weight loss.
* Plants from organic agriculture. Product of organic agriculture.
L'OCEANE

For whom?
Overexertion, loss of energy, lack of vitality, reduced strength during a diet… These can all be the results of a body imbalance.
Description
Studied for over a century for its regenerating and rebalancing properties, marine plasma is physically, physiologically and chemically identical to our internal organism, and an essential support for cellular life.
L'OCÉANE, 100% natural marine plasma, provides the body with all the vital energy of the sea.
Thalgo Slim LC Capsules
Slim LC Capsules is the perfect supplement to the Thalgomince LC24 treatment and range of products to ensure optimum weight loss results.  It is rich in active slimming agents derived from algae and plants whose slimming properties have been scientifically recognized and validated. Benefits: Reduces stored fat with Green Tea, Green Coffee, Guarana and Chromium. Figure enhancement by reduction in volume of fatty tissues. Limits the absorption of fat and sugars. Control of weight gain and figure bylimiting fat storage in the adipose tissue.
Coach Anti-cellulite shots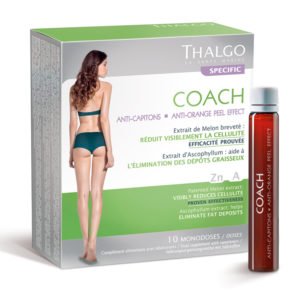 THALGO offers a corrective solution to the look of orange-peel skin, targeting all the parameters involved in the appearance of cellulite in order to restore the skin's smooth feel.COACH Anti-Orange Peel Effect contains a patented melon concentrate, clinically tested on cellulite reduction*, Ascophyllum nodosum and fat-burning green tea extracts, and grape marc extract which contributes to tissue drainage.THALGO Health Innovation:Certain micro-nutrient deficiencies can delay the achievement of desired results. COACH Anti-Orange Peel Effect is formulated with zinc and vitamin A.
Thalgo 7 slim drink
Slim 7 Slimming Drink is a seven day express drink mix treatment to boost weight loss. This red berry-flavored mix combines active seaweed and plants that act in synergy to help you "burn" fat more quickly, tone up your body, and detox your system. Benefits: Meadowsweet and cherry stalk help with draining. Guarana, Fucus and Palmaria palmata are invigorating and help tone. Green tea, Guarana and Fucus help with fat burning.
Thalgo slim control
Your mind is made up, and you have a clear objective: to stay slim!
But must you resist delicious holiday meals, drinks with friends or this piece of chocolate just begging to be enjoyed?
For guilt-free pleasure, with its convenient and discreet pocket format, SLIM CONTROL ADE helps you manage dietary "slips" and maintain your slimming objective:
NeOpuntia® nopal absorbs dietary fats and sugars and eliminates them to prevent them from being assimilated or stored;
spirulina extract helps to naturally limit the assimilation of complex sugars and hence the daily calorie intake.
Thalgo slim biotic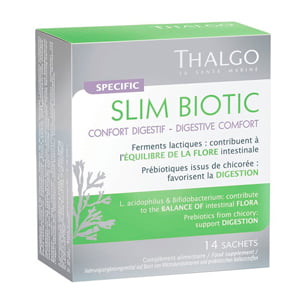 Thalgo Slim Biotic   A balanced intestinal flora, which provides a lighter and more streamlined shape. Thalgo Slim Biotic contains two strains of bacteria, theactive probiotics, the efficacy of which have been scientifically proven, help to replenish our intestinal flora by increasing the proportion of helpful bacteria. Prebiotic fibres enhance the efficacy of the probiotics by multiplying these good bacteria. Have you ever suffered from a bloated stomach? If the answer is yes, then Thalgo's Slimbiotic is for you.
Ocea Draine
This 10 day detox programme helps to purify and prepare the body before a slimming programme and acts as a refining booster.
– Horeseradish – Helps eliminate water retention
– Artichoke – Rich in flavenoids, purifies and is an important anti-oxidant
– Fennel – Assists in good digestion
– Fucus algae – Rich in fibre, good for intestinal transit
In the morning dilute 1 vial in a glass of water or fruit juice. Take daily for 10 days. Avoid alcohol, tobacco and caffeine. Take at each seasonal change, before starting a refining diet, or after over-indulgence.
Ingredients: Fennel, Black Winter Radish, Artichoke, Fucus.
COACH Light legs
Solution for swollen feet . Contains extract of butcher's broom, which reduces water retention ; Vitaflavan grape seed extract  for proper functioning of blood vessels ; Vitamins B2 and C which helps to protect cells ; Marine Magna helping to restore electrolyte balance , helping to maintain normal functioning of muscles.
Slim Control
Fat binding agent. *** stabilizing weight , the source of vitamins
Perfect for anyone who wants to control overeating or to slowly stabilize weight off after a diet . Slim control  is a supplement with essential liposulubile vitamins A, D , E to offset the portion which is absorbed by the fibers of nopal and not so assimilated organism.
With a very practical package, will help you to control " food slips " and keep your goals because of the active ingredients .
CONTAINS :
100 % active -"anti – fat " marine ingredients
NOPAL : Absorbs fats and carbohydrates and eliminate them ensuring that they are not treated or stored in the body.
Natural spirulina extracts help limit the assimilation of sugars and therefore dietary calories.
NeOpuntia absorbs fats and sugars and remove them to prevent their assimilation and submission .
MENOSVELT
Menopause – Thiner than ever!  sUnder the effect of hormonal fluctuations, several physical changes can occur and interfere with the well-being of women during the menopause.
MÉNOSVELT is an exclusive formula, specifically designed for women over 45 wishing to get back into shape:
Undaria pinnatifida alga extract contributes to the metabolism of abdominal fat to help regain a flat stomach and refined hips;
the "anti-water" complex combines green tea with ash tree, known to facilitate the elimination of excess water;
iodine contributes to normal energy metabolism. The slimming metabolism is thus regulated.
pecialistmasaj.ro | biasunclub.ro
Thalgo Collagen Booster shots
The Thalgo Collagen Booster is an Age defying beauty drink. The booster stimulates collagen & hylauronic reactivates the youthfulness of the skin in the deepest layers of the dermis. This then nourishishes, Stimulates and Protects your skin. The Collagen Booster smoothes fine lines & wrinkles, regenerates and plumps the skin from within. The Anti-oxidants help to restore engery and restore protein after exercise. The Collagen Booster also amplifies the effectiveness of Thalgo facial treatments and acts in synergy with all Thalgo creams. Not to be taken during pregnancy.