PCA Professional™ Pumpkin Peel Treatment
IT is a powerful antioxidant treatment that brightens and rejuvenates the skin. Pumpkin contains the highest concentration of salicylic acid of any plant, which provides the Pumpkin Peel Treatment with potent skin smoothing and pore clearing action. It also offers more than 100 beneficial components including the highest concentration of vitamins A, C and beta-carotene found in any other fruit or vegetable.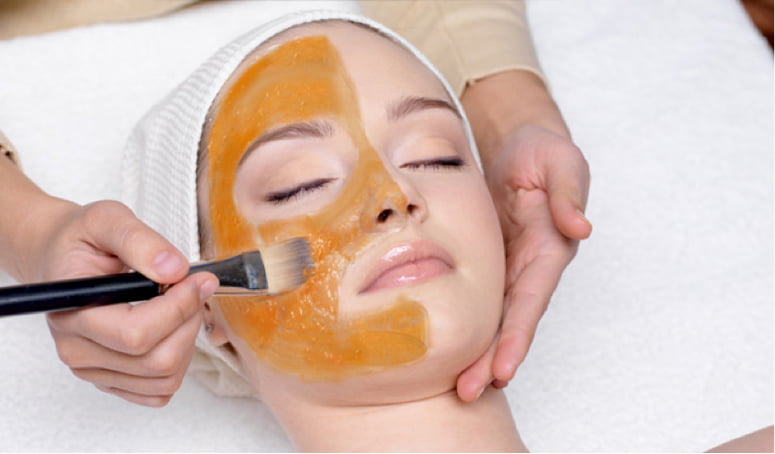 The treatment has simultaneous actions; it exfoliates and draws impurities out of the skin while introducing vitamins, enzymes and nutrients into the skin. This is an excellent treatment for smokers as it stimulates circulation, promotes healing and provides vitamin nutrition. This treatment is also great for smoothing the skin, as the naturally occurring salicylic acid in pumpkin removes the dead surface cells that cause rough texture. The skin will have a healthy glow following this treatment.
Therapeutic Papaya Mask
Revitalize: Therapeutic Papaya Mask combines a powerful combination of papaya puree and additional fruit extracts from lemon, orange and apple to brighten a dull complexion and effectively reduce hyperkeratinized cells, leaving the skin with a healthy glow. Green tea, vitamin E and honey reverse oxidative damage while drawing moisture to the surface of the skin, keeping the skin soft and hydrated. This results-oriented therapeutic mask is appropriate for all skin types and conditions.
Therapeutic Oat Milk Mask
Hydrate: Therapeutic Oat Milk Mask was strategically formulated to soothe and hydrate impaired skin conditions of all kinds. Oat milk, an excellent humectant, is also a potent antioxidant that effectively manages dry or sensitive skin conditions. This unique treatment mask incorporates advanced botanicals and pro-vitamins such as cucumber, arnica and panthenol to alleviate inflammation, improving the overall integrity of the skin.