Skeyndor is the No. 1 skincare brand in Spain and is today rated as one of the top fifteen cosmetic brands in the world. The brand is present in over 45 countries through a network of 40 international distributors. Skeyndor offers over 200 products to a variety of skincare needs and these revolutionary products are widely used in spas, professional beauty salons and homes from Canada to New Zealand.

Skeyndor Skin Care from Barcelona, Spain, provides a large range of advanced skincare products designed to aid in repairing damaged skin (ie hyperpigmentation), balancing problem skin (ie. very oily) and supporting the skin's natural defences.
Each line has its own objectives and one cannot argue that Skeyndor's anti-cellulite, anti-ageing solutions are premier. Also to mention is its Botu-solution, which is an elaborate alternate solution vs. facial injections. While the men's line is a perfect match for today's active, dynamic man. All products in the Skeyndor skincare line are practical, easy-to-use, and effective with your skin problems.
Product line
Corrective Line
Getting rid of wrinkles….
no longer a painful experience
Offering the real alternative to surgical treatments in a NON-INVASIVE technology. Corrective is a treatment inspired in the world's most prestigious medical – aesthetic therapies, created and formulated to treat the deepest wrinkles. Using the most advanced technology by incorporating the synthetic viper's venom this range provides state of the art treatment. After 3 years of research, more than 25 tested substances and studies on about 200 combinations, the SKEYNDOR laboratories have created CORRECTIVE, the cosmetic treatment for women, which removes wrinkles, even the deepest tones, and rejuvenates the facial expression, restoring the skin's firm, youthful appearance.
Skeyndor: Eternal Line
PLANT STEM CELLS WITH ENCAPSULATION SYSTEMS …
Skeyndor's newest technology; Plant Stem Cells! Just like all other tissues in our bodies, skin's stem cells deteriorate with time. Age, sun damage, lifestyle choices (alcohol, smoking), environmental pollution, constant dehydration all-cause mother cells to deteriorate with time. The injured, ill mother cells then produce baby cells that are just the same quality. The greater the damage to the mother cells, the poorer are our cells, the worse the skin looks.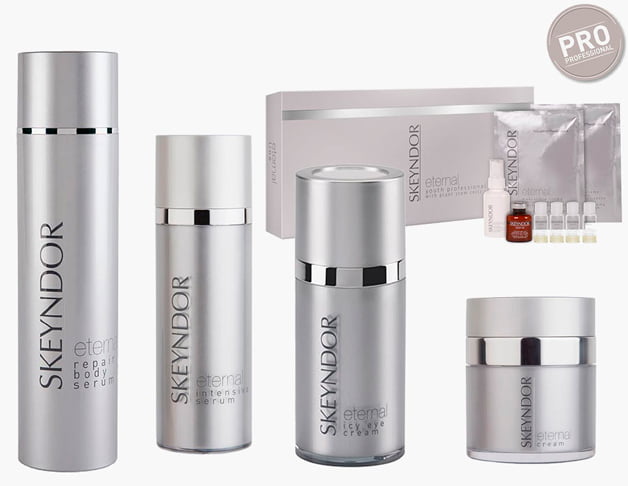 Skeyndor Eternal Line Toronto downtown European Beauty Spa 647-400-9926 A luxurious and powerful facial treatment delivering immediate and long term results for ageing and damaged skin. Using Award-winning Apple Plant Stem Cell Extracts, the Eternal Youth treatment offers multi-action, regenerating benefits smoothing out wrinkles and lines, intensely hydrating, improving elasticity, tone and texture. An immediate evenness and glow and a completely renewed skin, firm, fresh and supple.cleansing range, according to the client skin type. Tone and standardize the skin pH with the AQUATHERM THERMAL WATER CONCENTRATE.
Step 2. Remove excess dead cells with the PEELING SCRUB peeling. Wet your hands and work with circular movements, remove with plenty of water. Reinforce this exfoliating stage with the RADIANCE CLEANSING GEL.
Step 3. Apply the pure PURE C CONCENTRATE 15% using smooth strokes and gentle pressure until the product is completely absorbed. Work with smoothing, pumping movements to help absorption and to remove toxins.
Step 4. Continue with the POMEGRANATE CONCENTRATE 6%. Apply 4 ml. to the face and neck and work it in gently until it is completely absorbed. Continue with the same draining strokes, and do not use any apparatus as this may activate the skin.
Step 5. Apply the ALOE VERA MASK. Spread a thick layer of the mask, about 20 ml., using a fine brush or spatula, over the whole area to be treated. Leave for 20 minutes. The mask will gradually be absorbed and it is not necessary to remove it. While some of the masks may still remain on the skin, tone with plenty of the AQUATHERM THERMAL WATER CONCENTRATE, and cleanse with a sponge.
Step 6. To complete the treatment, apply the ENERGIZING CREAM SPF15. Apply a sufficient amount to the face, neck and cleavage and massage gently to help its absorption.
Professional Salon treatment
A luxurious and powerful facial treatment delivering immediate and long term results for ageing and damaged skin. Using Award-winning Apple Plant Stem Cell Extracts, the Eternal Youth treatment offers multi-action, regenerating benefits smoothing out wrinkles and lines, intensely hydrating, improving elasticity, tone and texture. An immediate evenness and glow and a completely renewed skin, firm, fresh and supple.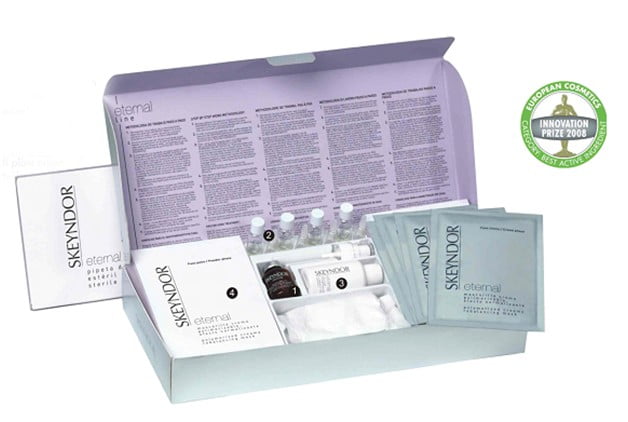 Aquatherm line – Home Care Products.
Give Your Skin a Pure Life Skin Care line for facial care formulated to respond to the problems of sensitive and reactive skin types that cannot be treated with traditional cosmetic products. Sensitive skin reactivity can be reversed where the hydro-lipidic barrier has been temporarily weakened by an imbalance in the natural functions of the skin, especially with protection against external aggressions. Environmental factors (sun, heat, cold, etc) and external irritants (pollution, smoke, unsuitable cosmetic products, etc) can easily penetrate these skin types causing adverse reactions, which generate problems such as redness, itchiness, desquamation and/or eczema. Aquatherm Line is a range of products formulated with spring water from Salies-de-Bearn; a natural source located in the French Pyrenees and is designed to cover the needs of all skin types, especially the most delicate. Brings immediate relief to sensitized skin.
Skeyndor: Power Hyaluronic line
Hyaluronic acid + Aquaporin activator Skeyndor presents the Power Hyaluronic range, the treatment that combines hyaluronic acid of different molecular weights with an aquaporin activator, which are the proteins responsible for transporting water to the heart of the cell.
IT BALANCES THE SKIN'S NATURAL HYDRODYNAMICS, OBTAINING AN OPTIMUM DEGREE OF HYDRATION.
Skeyndor Power Hyaluronic Line Toronto downtown European Beauty Spa 647-400-9926Hydrated skin is a synonym of healthy skin. However, the level of the skin's hydration depends on the net balance of its hydrodynamics, which is understood as the flows of water to and from the skin. To enhance the balance of this mechanism and reinforce the skin's natural hyaluronic acid content, Skeyndor has developed its new Power Hyaluronic line, an innovative combination of active ingredients that join forces to obtain more comfortable, extra moisturized skin, with a much softer relief.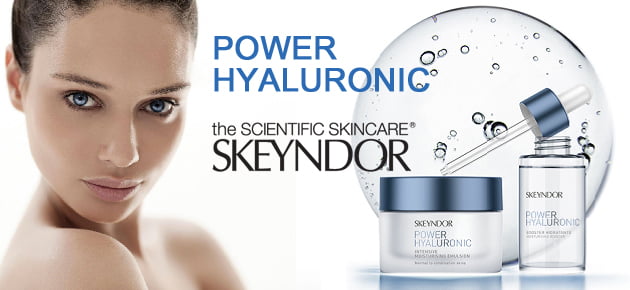 Hyaluronic acid. Hydrates the skin in-depth and prevents cutaneous water loss.
Hyaluronic acid is a natural body component, intended to capture and retain water in the skin. It behaves like a real "sponge", because it is capable of containing up to 1000 times its weight in water. However, there are external and internal factors that reduce each individual's hyaluronic acid capital, and this affects the skin's general condition. The size and weight of hyaluronic acid affect its biological activity. The high molecular weight fragments protect against environmental factors and do not penetrate further than the stratum corneum. The low molecular weight fragments can reach the dermis and stimulate the synthesis of new hyaluronic acid, to guarantee the main water reserve of the dermis. Power Hyaluronic combines high and very low molecular weight fragments and therefore obtains protection and in-depth hydration.
Aquaporin activator. Increases skin aquaporins by 36%.
Aquaporins are membrane proteins that make it possible to transport water through the inside of cells. Thanks to their quantity and quality, water can be distributed adequately throughout the middle and deep epidermis layers. Power Hyaluronic has been formulated with substances that have proved themselves capable of increasing the skin's level of aquaporins, while also producing important biological activity in the skin. Tests show their ability to increase the dermal and epidermal water reserves, improve the barrier function and help to regulate the skin scaling process.
Booth treatment *
Salon treatment, including 6 sessions, is recommended for people over 20 years old. It is suitable for skins that are dehydrated on the surface and at depth, with irregular cutaneous microrelief and small wrinkles.
Home treatment **
At home the treatment is prolonged by using daily and specific skincare products:
Intensive moisturizing cream/emulsion. Daily hydrodynamics treatment.100% moisturizer, providing 24 hours prolonged hydration, improving the appearance of dehydration wrinkles and cutaneous microrelief**. Available in two textures according to skin type: one rich texture for dry and very dry skins, and a lighter, non-greasy texture for normal to mixed skins.
Moisturising Booster. High performance-enhancing treatment. Intended to enhance the benefits of the daily moisturizing cream, 100% extra moisturizer, providing 24 hours continuous hydration and improving dehydration wrinkles and the appearance of the cutaneous microrelief**.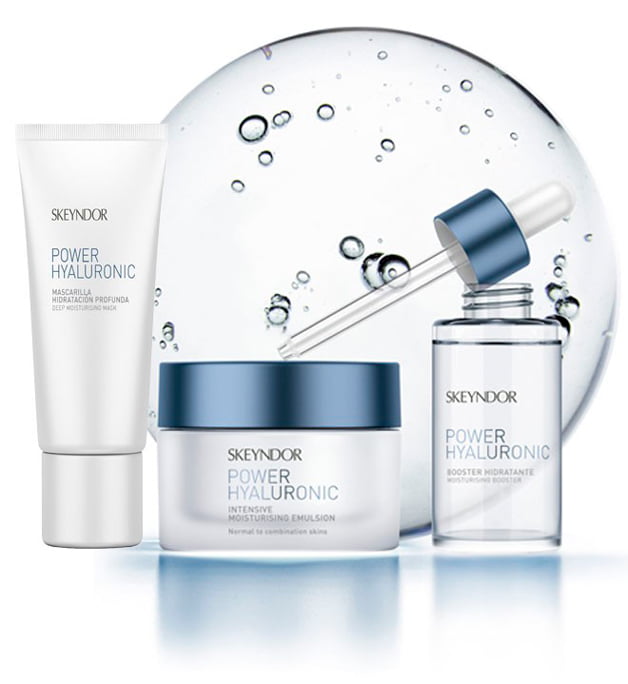 As we all know no one escapes the passage of time, and as the years pass, the tissues become increasingly sluggish with a slowing in cell regeneration. Due to the oxidative drying process excessive fine lines appear which lead to deeper lines or wrinkles, the skin loses its lustre and with the onset of the ageing process, hyperpigmentation occurs with a loss of elasticity. Skeyndor Power C+ anti-ageing youthful Glow
Luxury professional skincare specialists Skeyndor added plus (+) to their Vitamin C professional line launching a reformulation of their existing Vitamin Cline and found a new way to keep a pure concentrate of Vitamin C encapsulated longer than before. When Skeyndor re-launched their Vitamin C treatments, they announced that the Skeyndor Power C+ salon facial would contain 15% pure vitamin C, an impressive amount, while home treatment creams would contain 7.5%.
Skeyndor: Power C+ line
Skeyndor Power C+ has been reformulated to keep the pure concentration of Vitamin C encapsulated for a longer period. Vitamin C is an ingredient often used in dermatology; with a strong focus on the antioxidant benefits, it provides to the skin. Apart from the antioxidant qualities that most skincare clients are aware of through Vitamin C, this powerful ingredient also helps the skin by stimulating metabolism in the formation of collagen.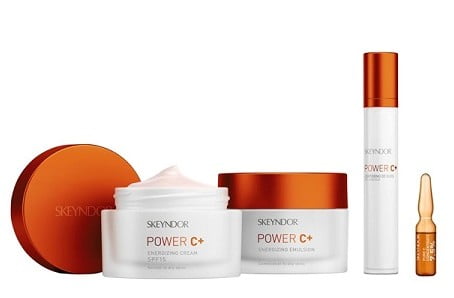 Skeyndor: Global Lift Anti-Aging Line
Skeyndor Global Lift Anti-Aging Line Toronto downtown European Beauty Spa 647-400-9926The Skeyndor Global Lift line consists of a new anti-age strategy that achieves a facelift effect, redefining the jawline and reducing double chins in mature skins. It is targeted at progerin, a protein that indicates cellular ageing. The concentration of this protein in the cell nucleus makes it possible to calculate the biological age of the cells. Skeyndor Global Lift Anti-Aging Line Toronto downtown European Beauty Spa 647-400-9926
Global lift professional treatment in the salon  is a skin rejuvenation treatment that can improve the skin by 5 – 6 years,  a set of treatments for women who do not want invasive surgery but want to rejuvenate the skin, and more importantly attenuate wrinkles caused by sagging. Using an exclusive [ProGEN-in] technology that restores the facial fullness with better-defined contours in the jawline, neck and cheekbones are the Global Lift from SKEYNDOR.